UK FREE

SAT CHANNELS in Spain via internet FREE and without dish!


This is a

Broadband non-subscription

HD receiver for Live TV
What we offer is FREE UK TV on your HD TV screen in SPAIN.
Two versions of the receiver are available - A) for LIVE TV only and B) LIVE TV and catchup TV / Replay / On Demand services from the big UK TV channels.
How to connect the
UK
IPTV receiver?
You have the choice between WiFi or Liveplugs or ethernet cable. Whichever suits you best. See the schemas below: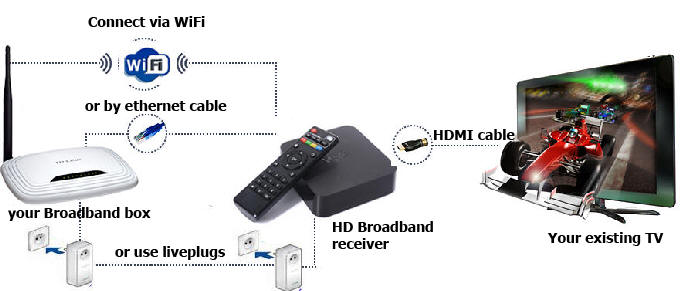 UK TV Broadband non-subscription
receiver for LIVE TV

£ 270 -




It is essential that you mesure first your internet speed before you purchase.
Use the blue button at the bottom of the page to mesure the quality of your ISP. If you reach 3 Mb/sec or higher this system will work just fine for you. Not sure yet if this is the right TV receiver for you? Get our documentation, everything is explained.